Endless Felt Blankets for Use with Compressive Shrinking Machine Palmers (Sanfor)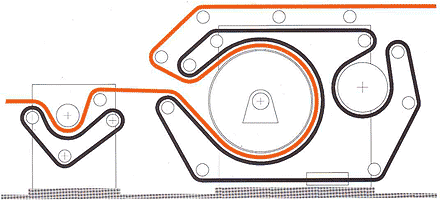 ITB blankets are manufactured with a precisely engineered woven scrim fabric to give maximum blanket strength and stability while providing ideal permeability. The scrim is made endless to ensure exact dimensions that last for the entire useful life of the blanket. While our choice of fibers is polyester, polyamid acrylic, and/or blend of these fibers to enhance mechanical properties and resistance to hydrolysis and chemical agents, new fibers are being continuously evaluated.
The endless scrim is covered with layers of fibres batting precisely needled into the woven scrim fabric. The endless felt blanket is then heat-seat and pre-stressed to ensure lifelong dimensional stability.
Special chemical treatments or finishes may be added to enhance the resistance of the blankets, to the effects of resins and other process ingredients used in finishing textile fabrics which sometimes reduce drying capacity.
ITB felt blankets are available in specific weights from 1500 to 3000 g/m2 with corresponding thicknesses of 4 to 10 mm.
---

Blankets for Compacting Calenders
It is well known that the shrinking of the fabric which results in compacting calenders, is related to the ratio between the roller diameter (a) and the felt thickness (b): the lower the ratio, the higher the shrinking percentage.
As a consequence felts must be as thick as possible (up to 21 mm and more) and their surface smooth, even and mark-free.
In particular these blankets in spite of their surface density (up to 8500 g/ m2) must not develop wrinkles or cracks when pressing the fabric against the heated cylinders so as to avoid creases of the fabric itself.
Our blankets, designed in cooperation with the major calender builders, are made of special blends of synthetic and aramid fibres and are of the batt-on-base type. They undergo heat-setting at high temperature as well as special surface finishing treatments.
---

Blankets for Transfer Printing Machines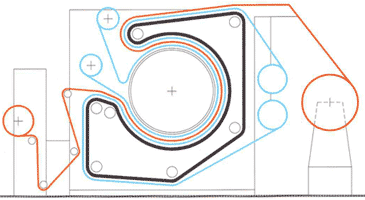 These blankets have an inner scrim and a surface batt made of aramid Nomex® fibres to endure the high temperature of the transfer-printing machine cylinders.
Such endless blankets, which have a good tracking, show a very smooth surface to avoid any possible marks on the fabrics to be processed and, thanks to a special heat-setting treatment, they run even under tension and do not shrink while in use.
Their surface density varies according to how they are used, but normally it is of approximately 2300 g/ m2 and their thickness is of about 6-7 mm.
---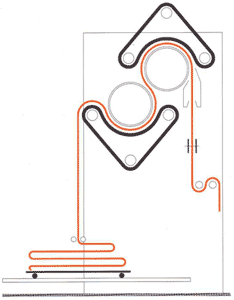 Blankets for Steaming, Ironing and Decatizing Calenders
The calenders used in the decatizing, steaming and ironing of knitted fabrics are usually fitted with endless blankets with a circumference ranging from 1.5 m to 3.5 m, and a width from 1.6 m to 2.8 m. ITB employs particular manufacturing techniques to avoid any distortion of these small felts, and to guarantee good tracking and stability when in use.
ITB felts typically have a very smooth surface to ensure that no marks remain on the knitted fabrics, leaving them evenly decatized and ironed.
Owing to the hot-humid environment in which these felts are used, it is extremely important to choose the right synthetic fibres (polyester) to avoid any hydrolysis of the felts.
---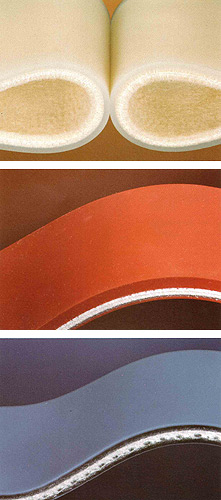 Silicone-covered Belts
During the last few years ITB has developed special technologies for the silicone covering of endless felts and conveyor belts.

For this purpose ITB has designed and built some machines which can coat endless felts and conveyor belts up to 3500 mm wide and over 20000 mm long. The thickness of the silicone may be in excess of 5 mm.
The silicone-coated layer can be ground to obtain a smoother surface and an even and uniform thickness with tolerances of +/- 0.1 mm. The application of any type of RTV and HTV silicone is done on tubular fabrics made of polyester, polyamide, acrylic or aramid fibres.

In the textile industry needled fabrics made of heat-resistant aramid fibres are used for transfer–printing and laminating blankets. Silicone coated belts with very high tensile strength are employed in the most up-to-date decatizing and fixing machines for the wood finishing.

The particular features of silicone, especially its resistance to heat, make it possible to use these belts also for the transport of hot materials in various industries.
---