Products for the Battery Industry:


- MICROPOROUS RUBBER SEPARATORS
AMERACE MICROPOROUS PRODUCTS L.P., of which TERMAR Srl is the exclusive International Sales Representative, is currently supplying three types of microporous rubber separators serving the lead-acid battery industry:
ACE-SIL ® vulcanized hard rubber
FLEX-SIL ® flexible rubber
CELLFORCE ® rubber polyethylene
These rubber separators share similar electrochemical performance characteristics in lead-acid batteries which can be attributed to the composition of natural rubber or similar elastomeric polymers, but not found in any other type of separators.
Yet each of these types of separators has its own unique physical properties and areas of applications stemming from the physical design characteristics of the separators.
Copies of various specific technical papers illustrating the products as well as papers on the testing of the influence of separator types on battery life, energy consumption and operating cost are available upon request. For any further information, please contact us filling the FEEDBACK FORM in this web site.
---

1. ACE-SIL®: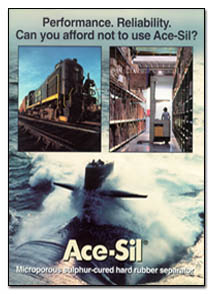 This classic microporous hard rubber separator has been the industry's leading premium quality separator for over 60 years, and is the best for industrial batteries such as STATIONARY, MOTIVE POWER and SUBMARINE batteries.

The basic technology of combining processed rubber with silica and then calendering and vulcanizing this compound into a separator material with a uniform pore structure has not required changes during this long period.
While the basic technology has not changed, there has been steady and constant refinement and improvement to the processes themselves. In addition, there has been consistent upgrading of product uniformity due to the monitoring and control of these processes.

More recent process refinements have enabled us to produce these separators with thinner backwebs thereby lowering their electrical resistance. Outstanding and permanent wettability gives low resistance instantly upon exposure to acid (this is achieved without the use of surfactants). ACE-SIL® separators offer superior physical characteristics for extended life:
resist chemical and oxidation deterioration including high gravity acid.
withstand severe abrasion, vibration and buckling; are not damaged by overcharging
remain dimensionally stable under varying temperature.
will not warp or split and can readily be rewet. Do not require or use "electrical agents".
outstanding compressive strength will not loose porosity or increase resistance with plate growth.
retard the transfer of antimony and the growth of dendrites (the phenomenon known as treeing). This is of particular importance when constructing long-life cells.
are heat resistant and this property combined with the ability to withstand high gravity acid make them ideal for use in premium "dry-charged" batteries.
separators' overall thickness available from 0,9mm up to 5,7mm,
Typical Properties
BACKWEB THICKNESS
0.66 mm (0.026 inch) to 0.89 mm (0.035 inch)
ELECTRICAL RESISTANCE
Preboil test:
0.238 ohm - cm2 (0.037 ohm - in2)
Acid soak test:
0.341 ohm - cm2 (0.053 ohm - in2)
VOLUME POROSITY
55%
ACID WETTING TIME
15 seconds
MEAN PORE DIAMETER
0.20 micron
TOTOL POROSITY
0.85 ml/g
---

2. FLEX-SIL®: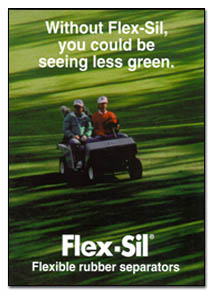 This flexible microporous rubber separator is at present the leading GOLF-CAR battery separator in USA, where it has proven to have increased the battery life by over 40% and has shown an excellent performance record in DEEP CYCLING batteries.
Because of similarity in composition with ACE-SIL®, FLEX-SIL® it offers similar electrochemical characteristics as:
it retards antimony transfer, thereby preventing depolarization hydrogen evolution and self discharge caused by local action.
it draws less current during charging and requires less water addition than the batteries insulated with other types of separator material.
These characteristics favor FLEX-SIL® to be used in deep cycle services as GOLF-CAR, WHEEL CHAIR, FLOOR SCRUBBER, LEISURE and DEEP CYCLE MARINE batteries.
Presently FLEX-SIL® is being used in over 98% of golf-car batteries manufactured in USA (over 3,5 million built in 2003). It has proven in field use that golf-car batteries made with FLEX-SIL® required less current for charging, showed less gassing, required less water addition and showed longer life than batteries made with other types of separator.
Typical Properties
BACKWEB THICKNESS
0.33 mm (0.013 inch) to 0.46 mm (0.018 inch)

ELECTRICAL RESISTANCE
Preboil test:
0.30 ohm - cm2 (0.048 ohm - in2)
Acid soak test:
0.36 ohm - cm2 (0.056 ohm - in2)
VOLUME POROSITY
54%

ACID WETTING TIME
15 seconds

MULLEN BURST STRENGTH
5.4 kg/ cm2(76 psi)

ELECTROCHEMICAL COMPATIBILITY
Cathodic shift 21 mV
Anodic shift -17 mV
TOTOL POROSITY
0.85 cc/g
MEAN PORE DIAMETER
0.07 micron
---

3. CELL FORCE®: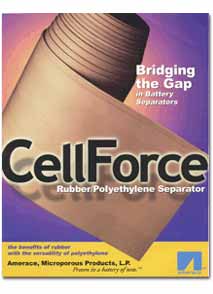 It is a rubber/polyethylene separator designed specifically for industrial traction and deep discharge cycling lead acid battery applications, including MOTIVE POWER, GOLF CAR, AND FLOOR SWEEPERS.
This highly flexible rubber/polyethylene separator has been developed primarily to meet the new requirement of the battery industry, as more and more automated assembling operations require flexible separators.
Utilizing their expertise with polymer chemistry and manufacturing, AMERACE Microporous Products L.P. has combined into CellForce® the strength and handling characteristics of typical polyethylene material with the electrochemical advantages and reliability of the proven rubber separators.

This enables the battery assembly process to be more flexible with optional use of sleeves, envelopes or leaf type separators, while enhancing battery cycle life by positively affecting top-of-charge (TOC) voltages and reducing normal in-service maintenance. Additional features are:
Retards antimony transfer
Highly flexible
Wide variety of patterns
Attached Glass Mat available
Ultra fine pore structure
Available in Roll or Leaf Stock
Compatible with all automatic assembly equipment
Due to new manufacturing methods and processes developed by AMERACE Microporous Products L.P., CellForce® will be offered at competitive pricing and with the excellent quality expected by our valuable customers. Slitting and cutting machines are available on request. For additional information please contact us.
In conclusion, rubber separators have a unique ability to provide electrochemical properties other separators do not have. They retard transfer to antimony, provide good on-charge voltage characteristics and exhibit favorable TAFEL curve and float characteristics.
New mechanical design features of rubber separators will enhance battery performance and broaden the applicability of current rubber separator products.


Typical Properties
BACKWEB THICKNESS
0.5 mm

OVERALL THICKNESS
1.80 mm
PORE VOLUME
%58
MEAN PORE DIAMETER
0.1 micron
ELONGATION
> 200%
ELECTRICAL RESISTANCE
0.15 ohm-sq cm
More exhaustive information about Cellforce is available on demand "Evaluation of Hybrid Rubber-Polyethylene Industrial Battery Separators - 8ELBC, Rome, by R. Wimberly, Jamie Miller and George Brilmyer."
[ products | company profile | contact us | disclaimer | site map ]